This weekend has been so busy and I don't really feel as if I accomplished as much as I should have. I try my best to make the most of the weekends to spend with the girls since school pretty much takes up their time during the week.
Aliya has been anxious to make an entire bedroom for her American Girl Doll and with a little supervision from mom things went great. Her idea was to make her own American Girl Bedding for her new doll. My darling is a beginner sewer and hubby has taught her so much. She made her doll a bed out of the box she came in by taking an old pair of satin pajama pants and stuffed it. Then she placed it in the doll box for a mattress.
She took an old shirt from her sister with dreams of sewing a comforter. Here she is pinning the shirt in order to prep things up for stitching here.

She sewed this as if you were to sew a pillow. The stitching was done with the shirt inside out on every side that was opened leaving a small hole big enough to stuff toward the end.
Since we were out of Poly Fil we used what was left of some puffy snow for Christmas decorating projects. It worked perfectly. Once she closed the final stitch she then used fabric glue to adhere a ribbon and flower on for a final touch.
Here is her finished product. I brought the bed to the kitchen table where there was more natural light. Unfortunately, we haven't been getting much of that around here lately.

Here she is napping in her bed. So what do you think? Not bad for an 11 year old that has only been sewing for about two weeks don't you agree? Do you sew? What easy projects have you done?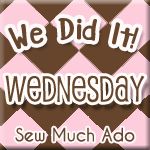 Linked over at
How Sweet the Sound